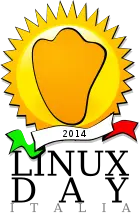 This year too (2014) a Linux Day edition for the Varese area has been organized by the LinuxVar and GL-Como LUG and the LIFO laboratory at the FaberLab of Tradate, an interesting place where you can build up your ideas, make 3D and ceramics printings and find someone who will teach you all these goodies.
As usual, some talks, workshop and projects took place. But this year there has been quite a substancial difference with respect to past editions, because for the first time the fair will be targeted exclusively to students.
Me
Personally I showed LTSP, a server-thin client system for schools and organizations computer laboratories. We provided a small lab-like structure with three posts and an LTSP server.
A more descrptive and detailed explanation of this system is present at this page, complete with slides used to show it.
Some photos of the event can be, instead, downloaded here, on my file server.